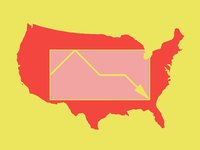 Not all states require state taxes be filed; Alaska, Florida, Nevada to name a few. For those that do require filing, there can be repercussions for not filing your state taxes.
Use of State Taxes
If you do not file your state taxes, you are keeping money from the state used for roads, education, public safety and other government activities. By not filing, you are keeping these programs from being funded appropriately and effectively.
Penalties
All states vary in the types and amounts of penalties they may charge for not filing state taxes. Some penalties are a civil fine, but some states also can charge you with a criminal charge. Penalties range from a few dollars per day, such as in Indiana, to imprisonment for a year.
Enforcement
If state taxes are not paid and the penalties are not paid, states can enforce penalties. This can be garnishing your wages, putting a lien on your home and even seizing or levying your bank account. A warrant will be issued that lets you know an action is about to take place.