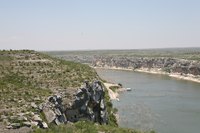 Texas is home to many rivers, but two of the longest are the Rio Grande and the Brazos River. The Rio Grande technically spans a greater distance, but it borders the state of Texas and the country of Mexico. The Brazos River is almost entirely contained within the borders of Texas itself.
The Rio Grande
The Rio Grande is 1,896 miles in length and runs south through New Mexico where it flows from the San Juan Mountains of Colorado. It continues southeast along the borders of Mexico and Texas for 1,250 miles, opening up at the Gulf of Mexico.
The Brazos River
The Brazos River is 1,280 miles in length and runs from Blackwater Draw, Curry County, New Mexico, through the heart of Texas and also empties into the Gulf of Mexico. A length of 840 miles of the river runs through Texas. The Brazos River was also known as the Rio de los Brazos de Dios, which means "The River of the Arms of God."
The Longest River
So which is longer? The Brazos River is officially considered the longest river in the state of Texas according to the United States Geographic Survey. The Brazos River is historic for being the setting for a battle between the Texas Navy and the Mexican Navy as well as the location where the Texas Navy ship "Independence" was sunk. Today the Brazos River is important as an irrigation source in addition to having hydroelectric dams.