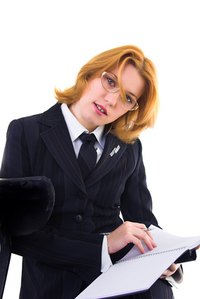 Unlike interviews where questions are specifically prepared, semi-structured interviews are somewhat improvised and informal. Knowing how they work makes them easy to identify early on in an interview, giving the candidate chance to adjust his approach and answers accordingly.
Semi-structured interviews are not uncommon. The Food and Agriculture Organization of the United Nations uses and describes them in detail, explaining that it is an excellent method of two way communication. It allows the employer and employee to freely give and receive information.
Protocol
The protocol for a semi-structured interview is simple. The entire process is improvised and conversational, while key points and answers are recorded on a form designed to evaluate and sort answers. This gives the person being interviewed a chance to give a lot of good information, while making the entire process seem more like a normal conversation than a question session.
Advantages
Semi-structured interviews carry certain advantages. First, it is not as invasive as a structured interview. Instead of being forced to answer questions directly, the interviewee can expand and also question the interviewer. Second, the technique is useful not just for confirming the same information, but also learning more. It gives the answers reason and context. A third advantage is that semi-structured interviews make it easier for candidates to talk about sensitive subjects and issues.
Disadvantages
While there are advantages to semi-structured interviews, they carry disadvantages as well. For example, since the interview is conversational in nature, it could bring up a lot of unnecessary information. Also, in a group interview, candidates could end up assisting each other or speak out of turn. This might cause them to lose focus on the topic. Finally, semi-structured interviews require training. Many problems can arise, such as leading questions, poor listening skills, not asking probing questions, repeating questions, not judging the answers or asking questions that are insensitive or not specific.