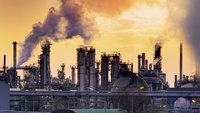 The cap and trade system is used by various jurisdictions around the world to reduce the emission of carbon and other dangerous compounds into the atmosphere. The goal is to curb both the potential effects of these pollutants on global warming as well as to enhance air quality. "Cap" signifies the limitation placed on total emissions of pollutants, while "trade" alludes to the ability of corporations to buy and sell unused portions of the permits issued to them.
The Basics
In a cap and trade system the local or federal authority begins by setting an immediate annual limit on pollutant emissions and then a timetable that defines how this limit will decline over time. Next, companies are issued permits that allow them to produce a maximum amount of pollutants. Exceeding this limit results in a penalty. In addition, companies that are below this limit can sell the unused portion of their limits to other corporations. For example, if one company is allowed to emit 1,500 tons of carbon but spews only 1,300 tons, it can sell the unused 200 tons to a business that is 200 tons above the limit. The second company thereby avoids paying a penalty.
Motivation for Continued Improvement
A major advantage of a cap and trade system is that it provides an incentive for companies to continuously reduce their emissions. If businesses were merely given limits, there would be no financial incentive to further clean up manufacturing practices once a producer falls slightly below limit. In a cap and trade system, however, the cleaner you operate, the larger the unused part of the permit that you can sell and the greater the sales proceeds.
Easy Control of Total Outputs
Another advantage is that authorities can let the free market operate effectively while still controlling total pollutant levels in the environment. The trading system ensures that the under- and over-polluters balance each other out, and that total emissions generally remain within limits. In addition, authorities can monitor the market price of unused permit rights and adjust penalties accordingly. This ensures that some players do not find it cheaper to simply pay a penalty to the government than to purchase unused permits from under-polluters.
Potential Incentive to Pay and Pollute
One drawback of a cap and trade system is that the cash-rich businesses may find it easier to continue to rely on old but cheaper technologies that create significant emissions and simply purchase permits to avoid penalties. Because of this, a cap and trade system alone can only do so much to reduce pollution. Furthermore, not all pollutants fall under the chemicals covered by cap and trade systems, making it necessary to create parallel laws and regulations to cover those chemicals.
Economic Drawbacks
A large portion of electricity is produced by burning coal, which is a prime source of emissions. Suppliers of electrical power find it particularly difficult to comply with cap and trade rules and must often purchase significant amounts of permits at a great cost. This can impact the price of electrical power for both consumers and industrial manufacturers, which can eventually trickle into prices of other goods and services and lead to inflation.