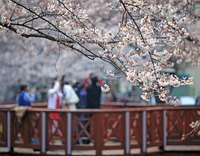 Each year, thousands of people plan their visit to Washington, D.C. to coincide with the annual explosion of soft pink and white petals adorning the city's Yoshino cherry trees. For the optimum cherry blossom experience, plan your trip with three things in mind: peak blooming period, peak blooming date and visitor events.
Peak Bloom Period
Seasonal temperature fluctuations have caused unpredictable blooming periods in the past. The peak occurred on March 15th in 1990 and in 1958 the bloom occurred on April 18th.The cherry blossom blooming period is usually between March and April.
Peak Bloom Date
The peak bloom is a stunning visual display when 70 percent of the trees' puffy, white florets have fully opened. Data collected over the years shows the average peak bloom date is April 4.
Tidal Basin Events
The National Cherry Blossom Festival dates are set based on the average peak blooming period beginning several days prior to the anticipated peak bloom date and continuing over a two-week period. During this time, National Park Service rangers conduct bicycle tours and interpretive walks through the cherry trees around the Tidal Basin. Parades, daily performing arts programs and fireworks displays are a few of the many events in which you can participate during the festival.