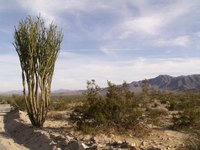 Mexico's deserts are situated in the north of the country and extend into the southern United States. Unlike the tropical jungle and rainforest climates found in southern Mexico, the northern deserts have typically hot and arid climates.
Chihuahuan Desert
The Chihuahuan Desert covers the northernmost part of the state of Chihuahua and smaller parts of other Mexican states, and also extends across the border into the southern United States. With an area of 139,769 square miles, the desert is the second largest in North America.
Sonoran Desert
The Sonoran desert covers 120,000 square miles and is one of the largest and hottest North American deserts. It straddles the border between Mexico and the United States, stretching into parts of California and Arizona from northwestern Mexico.
Baja California Desert
The Baja California desert is situated on Mexico's west coast and features a varied landscape including coastal dunes, mountains, and plains. The Pacific Ocean to the west provides some humidity to the desert's climate.