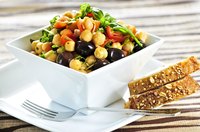 A vegetarian diet is not complicated, and you can easily whip up meals that are not only delicious but nutritious, too. The key is to keep it simple. Consult your doctor to discuss your diet and health before making changes to your eating habits.
Vegetarianism 101
A vegetarian diet means not eating animal flesh, but there are different types of vegetarians. Vegetarians who include dairy in their diets are referred to as lacto-vegetarians, while those who eat dairy and eggs are called lacto-ovo-vegetarians. A vegan is a vegetarian who avoids all animal foods, including milk, eggs and honey.
No matter which type of vegetarian you consider yourself, you still need to eat a variety of foods from all the food groups to meet your nutrient needs.
No-Brainer Breakfast
It's easy to eat vegetarian at breakfast. A bowl of whole-grain cereal with milk, either cow's or plant-based, with fruit makes an easy and nutrient-rich option. You can also scramble eggs or tofu seasoned with turmeric and serve it with whole-wheat toast and glass of milk. For vegetarians with little time to sit and eat, blend a banana and berries with milk and nut butter for a healthy smoothie you can take with you.
More Than Veggie Lunch
While salad certainly makes a healthy and simple vegetarian meal, especially when you add yummy beans, nuts and dried fruit, you don't have to limit yourself to just greens. A peanut butter and banana sandwich on whole-grain bread can be put together in no time and makes a healthy lunch option. Or, you can stuff a whole-wheat pita with hummus, tomatoes, cucumbers and shredded carrots. A bowl of vegetable soup with whole-grain crackers and fresh fruit for lunch is also an easy option, and filling too.
Keep-It-Simple Dinner
Toss whole-wheat pasta with cooked frozen veggies such as peas, carrots and lima beans, marinara sauce and a sprinkling of Parmesan cheese for an easy dinner meal. Omit the cheese if you're following a vegan meal plan. Or, stir-fry fresh veggies with tofu and peanuts and serve with brown rice. You can also smash cooked kidney beans and spread the paste into a corn tortilla topped with shredded lettuce and chopped onions and serve with a mixed salad.
Grab-and-Go Snacks
No need to prep most of the snacks on your vegetarian meal plan. Good options include fresh fruits and veggies, nuts, whole-grain crackers, yogurt, cheese sticks or air-popped popcorn.