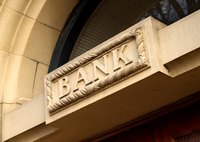 Open a personal or business bank account in remarkably little time with the required information on hand. Discuss your financial objectives with the bank officer. Check your credit report prior to opening a financial account.
Identification
Personal accounts require a photo ID, such as your state driver's license, non-citizen's alien registration card, state-issued ID, or military card. Bring your Social Security card. If your address has recently changed, bring a lease or mail delivered to the new location. When depositing new funds by bank wire, make sure to bring bank routing information to facilitate the transfer.
Types
Schedule a meeting with one of the bank's new accounts officers. Present a copy of your business license or certificate of incorporation if you are opening a business account. Your bank may require other items, such as the memorandum & articles of association. If your plans include opening an account for a "doing business as" (DBA) entity, contact your municipal county clerk's office to file the appropriate paperwork before arranging a bank account.
Considerations
Ask questions about check prices before making a large check order. Learn about overdraft and other banking fees and how to avoid them. Establish an overdraft protection feature if this service saves an occasional returned check fee.