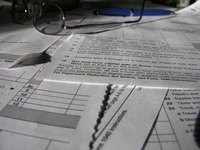 The goal of a forex trader is to make money from foreign exchange transactions and make gains. It is a prudent policy therefore to know how to file your foreign exchange gains or losses with the IRS.
Forms
Forex traders who trade spot transactions, currency transactions that are settled within two business days, are taxed according to IRC 988 and IRC 1256 contracts which are specifically designed for trades settled within two business days. This enables them to be treated as ordinary gains and losses with the IRS.
Losses
The benefits to a trader who has made a trading loss at year-end are great because the trader can treat all his losses as ordinary losses using both the IRC 988 and the IRC 1256 and is not subject to claiming only the first $3,000 of losses.
Gains
Although the treatment of foreign exchange losses is the same in both IRC 988 and IRC 1256 contracts, the treatment of gains is not. The IRC 1256 contracts are somewhat more complex than the IRC 988 contracts; however, by using the IRC 1256 contract a trader can save more than 12 percent in taxable gains than by using the IRC 988. So as forex losses are treated the same on both contracts and forex gains are treated better on the IRC 1256, a forex trader should choose the latter contract to file IRS tax returns.