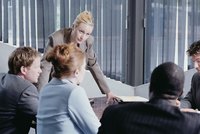 Organizational structures dictate how a company operates by separating the duties and responsibilities of individuals within the business. While many structures tend to be rigid and somewhat fixed, an organic structure takes a different approach and attempts to remain flexible in the business environment.
Characteristic
Organic structures tend to be flat and rely on horizontal communication, low specialization or knowledge among workers. Decision-making is decentralized, multiple individuals can help make decisions regarding business operations.
Purpose
Business owners and managers will often implement an organic organizational structure because economic markets rarely stay predictable. Companies must respond quickly to changes in the market, whether local, regional or national. Allowing multiple individuals to make decisions can improve the company's flexibility.
Considerations
Organizational structures need not be singular in nature. Owners and managers can create a hybrid structure that separates the company along functions or product lines while still retaining the organic structure. Using a hybrid style can further enhance the company's effectiveness in the market.