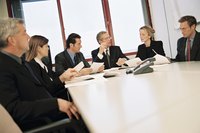 The corporate officers are high level managers who are responsible for overseeing the corporate operations. Also, corporate officers perform their duties in compliance with the bylaws and guidelines of the Board of Directors.
Appointment
The officers of a corporation are appointed by the directors pursuant to the bylaws of the corporation.
Types
A corporation can contain several categories of officers that are responsible for the management of various corporate departments. However, most corporations comprise of four chief officers, including the president, vice president, secretary and treasurer.
Authority
Corporate officers are agents of the corporation and their powers are delegated by the Board of Directors or the bylaws. Therefore, an officer of the corporation must act within his implied or express authority.
Corporate Liability
As an agent of the corporation, the corporate officer can bind the corporation in contracts as long as the officer is acting within his authority.
Removal
The Board of Directors and the corporate bylaws establish the procedures for removal of an officer. In most cases, the directors have the authority to remove an officer when the removal is in the best interest of the corporation.