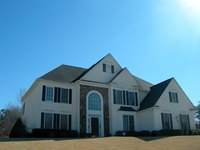 The closing day of your mortgage coincides with the closing of your home, the day when home ownership is transferred from the seller to the buyer. There are several steps that take place on that day, each of which lead up to you taking ownership of your home.
Walk Through
A day or two before closing, home buyers will walk through their new home to make sure they are ready to transfer ownership. Any problems or arrangements for repairs that crop up can be settled at this time.
Closing Costs
Expenses related to the closing of a home must be presented at closing by the buyer. Those costs include attorney fees, escrow, property taxes and out-of-pocket fees, according to the U.S. Department of Housing and Urban Development.
Documentation
Paperwork related to the closing must be signed and, in many cases, attorneys must be present. A settlement statement, truth-in-lending statement and a mortgage note are among the documents that must be signed at closing, according to Bankrate.com.
House Keys
When a home has been closed, the house keys are presented to the new owner. At that point the home is yours, ready for a new chapter.
Government Registry
The closing agent officially records the mortgage and deed at your local or county government's registry of deeds on the day of closing or shortly after.