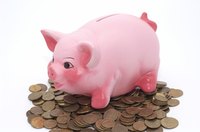 A signature loan is a type of personal loan that does not require any collateral. Usually these loans are small amounts, ranging from $100 to $5,000. Good credit is generally a requirement for obtaining a signature loan. Depending on how you manage your loan, it can impact your credit score.
Too Much Debt
Your total amount of debt contributes to your credit score. Adding another personal loan to your credit file will increase your overall debt. You are also risking an increased debt-to-income ratio. Personal loans differ from credit cards because you do not always utilize all the available credit on the card. With a signature loan, the entire amount of the loan is reflected on your credit report as money you owe.
High Interest Rates
Since lenders take a gamble with signature loans, you can expect to pay a higher interest rate. The higher interest can mean you will be repaying the loan for a longer period. With a personal loan lingering on your credit report, your ability to obtain more credit may be affected.
Tips
To lessen the impact a signature loan will have on your credit, consider paying down other lines of credit. Try to pay more than the minimum payment on your loan. Pay extra toward the principle whenever possible. The length of time you have the loan, the payment history and the amount owed on the loan will all affect your credit score.