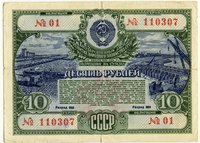 War bonds are securities sold by national governments to their citizens to finance military operations in existing or anticipated wars. But war bonds also act to curtail wartime currency inflation by removing money from the economy until the war ends, says the Financial Web website.
History
War bonds date back to the mid-1800s and have been used by a number of countries in the 19th and 20th centuries. Both the Union and Confederacy issued war bonds to finance the U.S. Civil War, says Financial Web. War bonds were issued by the United States and all the other major combatants in World Wars I and II.
Patriotic Investment
As government bonds, war bonds offer security of principal plus a guaranteed return. But they also tend to have below-market interest rates, with the major motivation for war bond purchase being patriotism, said Financial Web.
One Big Risk
The big risk with war bonds as an investment is that they become worthless if your country loses the war and your national government is disbanded as a result of the loss, according to Financial Web.