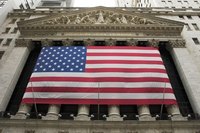 The stock market is a key part of economic development. Investors evaluate the potential of a stock to appreciate in value and invest in the most promising businesses. The aggregate effect of investment fuels business activity, employment and a higher demand for goods and services.
Measurement
Progress in the stock market is normally illustrated through a stock index like the Dow Jones Industrial Average. The Dow Jones is an average stock price based on the stock prices of the 30 largest companies in the United States.
Stocks
Stocks are pieces of ownership sold by companies to investors. Proceeds from selling stock are invested back into the company to fund business activities, growth and expansion. Investors buy stocks in anticipation of the stock increasing in value.
Stock Exchanges
A stock exchange is a formal trading place for stocks. Brokers meet to fill buy and sell orders generated by investors. Most stock exchanges only trade stocks that meet the listing criteria of a particular exchange. For example, some of the listing criteria for the New York Stock Exchange includes a stock price of at least $4 and $10 million in earnings for the last three years.