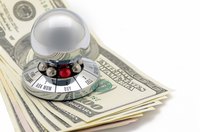 Global financial marketplaces feature various assets or economic resources that investors buy and sell, helping firms manage risks and seek external funds to finance corporate initiatives. Money market securities help companies fund short-term operating needs.
Identification
Money market securities are short-term assets or financial instruments that market participants trade on securities exchanges. These securities generally mature within one year.
Types
Money market securities include negotiable certificates of deposit, banker's acceptances, U.S. Treasury bills, commercial paper, repurchase agreements or "repos," federal funds and municipal notes.
Significance
Money market securities are important in a company's short-term liquidity management strategy. Without access to money markets, companies may be unable to finance short-term needs, such as paying salaries, ordering goods and abiding by contractual obligations, according to the Federal Reserve Bank of Richmond.
Considerations
Individual investors and financial market players, such as banks and hedge funds, trade money market securities on physical and electronic exchanges. Physical securities marketplaces include the New York Stock Exchange. Electronic or over-the-counter trading platforms allow investors to buy and sell securities through Web terminals.