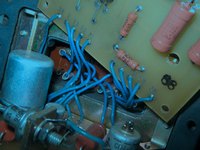 Stepper motors don't simply spin--they move in discrete small steps. Traditionally, the motors are used in anything from computer scanners to slot machines. There are many ways to classify stepper motor schemes, and one way is to distinguish between unipolar and bipolar stepper motors.
The Power Supply
The power supplies to both unipolar and bipolar stepper motors are DC. Unipolar stepper motors require only one power supply and bipolar stepper motors need two power supplies. A bipolar stepper motor can work with only one power supply if it has some extra control circuitry to reverse the polarity of the power supply at the right times.
The Motor Coils
Unipolar stepper motor coils all have center taps. This means that a unipolar stepper motor will have 50 percent more wires than a bipolar stepper motor with the same number of coils. Usually, all of the center taps go the the positive source and the half coils are used to reverse the polarity of the entire coil.
The Control Circuitry
Bipolar motors are simpler, but the control circuitry is more complicated--especially if one power source is used for the bipolar stepper motor. On average, both unipolar and bipolar stepper motors use the 16 pin L293D chip but they are wired differently.