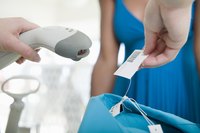 Pricing specialist, sometimes called pricing analyst, is a standard role in merchandising. In this position, you use computer software tools to analyze historical pricing data and trends in your industry. In retail, specialists evaluate competitor prices and gross profit objectives on various products to determine store prices. They also make decisions on when to discount merchandise. Manufacturers, wholesalers and business-to-business sales organizations also rely on pricing specialists for strategic planning.
Background Requirements
You normally need a bachelor's degree in marketing, finance or a related field to become a pricing analyst. Additionally, analysts need excellent computer and analytical skills because much of the job centers on effectively evaluating data to make pricing decisions. Verbal and written communication skills are essential, as well, since you must share pricing structure, policies and changes with managers. You need to work efficiently under pressure to make timely decisions and quick changes when necessary.