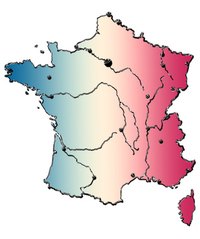 France is a large and diverse country and welcomes thousands of holidaymakers each year. With a lengthy coastline, some of the highest mountains in Europe and cities filled with historical landmarks, it offers vacation spots for all interests.
Paris
The capital of France, Paris is divided into 20 districts or "arrondissements," each of which has its own character. Public transport in Paris is streamlined and efficient, and most of the historic monuments and places of interest are easily accessible. Not to be missed sights include the Eiffel Tower and the historic district of Montmartre, which attracts many artists.

French Riviera
The French Riviera ("Côte d'Azur") boasts a mild climate throughout the year. It is extremely busy in July and August and is best visited in the spring or autumn seasons. The glamorous town of St. Tropez is popular with tourists, and the town of Cannes hosts an international film festival in May each year.

French Alps
Mont Blanc, the tallest mountain in Europe, is situated in the French Alps and many tourists visit this region each year to take advantage of the extensive ski slopes. The French Alps can also be visited in the summer months when visitors can indulge in outdoor activities such as hill walking or mountain biking, while enjoying the wonderful scenery.