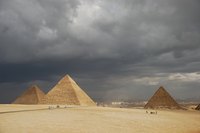 Pyramid structures exist at several locations in the world besides Egypt. In addition to the Mayas and the Aztecs in Central America, other civilizations built pyramids in Greece and China for religious purposes. Archaeologists say they served as tombs and monuments for kings as well as sites for religious rituals.
Egyptian Pyramids
Built 5000 years ago for the purpose of providing an eternal tomb for their pharaohs, the Egyptian pyramids reassured the people that their rulers, even in death, were a source of influence with the gods on their behalf.

Mayan and Aztec Pyramids
The pyramids of Central America served as stages for the drama of the religious rites which called for human sacrifice. Priests conducted the rituals on the platforms crowning the structures. Crowds gathered in the courtyard and watched the priests, high atop the pyramid, rip out the victim's heart and hold it up for all to see. Then the bloody bodies were tossed off the platform where they rolled down the sloping face to the bottom.
Modern Pyramids
The steel and glass pyramid at the Louvre in Paris is an architectural masterpiece. It joins those constructed at the Luxor Hotel and Casino in Las Vegas, and the Transamerica Pyramid in San Francisco as structures built to be enjoyed for their intrinsic artistic beauty.