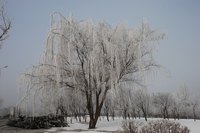 Thermal underwear can also be called "Long Johns" or long underwear. When deciding which brand or type is best fitted for your needs, warmth is only one of the considerations.
Comfort
When comparing thermal underwear, consider what type of fabric and material such as cotton, polyester, flannel, wool or silk best fits the user's needs. In addition, since long johns are available in various styles such as knitted or smooth textures as well as lengths and sizes such as ankle length or knee-length, it is important to compare which is the most comfortable for each individual.
Warmth
An individual who plans on spending time outdoors in cold weather may benefit more from long underwear made from durable material such as wool. However, individuals who are staying indoors may benefit more from lighter fabrics such as cotton. However, according to hisroom.com, silk long underwear retains more body heat that cotton or flannel long underwear.
Price
To ensure choosing a quality product at the best possible prices, surfing the websites of various thermal underwear manufacturers or reading reviews on Amazon.com can provide significant insights while comparing costs, wearability and warmth. As of September 2010, long underwear for women at both JCPenney and Outdoor.com ranged from $18 to more than $50.