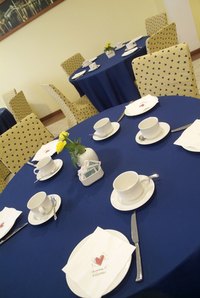 Finding a suitable program for an employee dinner can be daunting. The event should be on a professional level without being work-like. Although finding a tasteful centerpiece for the gathering might be a simple matter of looking outside the cubicle.
Inspire and Inform
Every business has clients, partners or suppliers who benefit from the company's products or services. Think about people associated with your business who are especially interesting or inspiring. A steel fabricating company might have supplied beams for a new sports facility — perhaps there is a colorful person associated with the project who could tell employees about the new arena or stadium.
Remember
In the course of every company's work year are funny, remarkable and memorable incidents. Elect a company "historian" and have him or her keep a short log of episodes: the time the marketing group stayed until 2 a.m. and faxed a proposal to Europe just as the client's staff was gathering for morning coffee, resulting in a big sale two weeks later. Or the spring day when two men in the warehouse used their cross-country skies and a toboggan to make a critical delivery during a freak snowstorm. Ask someone with a dry wit and no fear of public speaking to recount these events.
Change it Up
Instead of a banquet hall or hotel ballroom, host the employee dinner at an unusual location. Have a catering company serve barbecue at a tailgate party prior to a minor league or high school sporting event. Have a picnic outside an antique car or natural history museum and take a tour after the meal — many museums will open after hours for a large group.