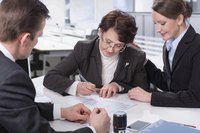 Borrowing against a whole life insurance policy probably sounds like a tempting way to get out of a financial jam. You may be able to borrow up to the cash value you've accumulated in the policy, and there's no immediate pressure to pay it back since the money taken out will be deducted from your death benefit when the time comes. However, taking out a loan not only reduces that benefit -- it also can have tax and policy cost implications.
Cost and Benefit Effects
There isn't a payment schedule for repaying a loan against a whole life insurance policy. However, when you take out a loan against your policy, you'll be charged interest on that amount. Unpaid interest is added to the loan balance, meaning you'll start paying additional interest on that amount as well. For a whole life policy, this also may increase the cost of your premiums since your dividends may not cover the additional costs associated with the loan and its interest. If you die with the loan outstanding, your beneficiaries won't get the full amount of the policy because it will be deducted from the balance.
Tax Implications
If you instruct your insurer to use the policy's balance or dividends to pay the interest, and that amount doesn't cover the charges, that's considered additional income. While the implications of that aren't immediate, if the loan is still outstanding and you decide to surrender the policy or the policy lapses, the remaining loan amount plus any accrued interest is considered to be taxable income by the IRS. You could receive an unpleasant surprise at tax time in the form of a 1099 documenting that amount.