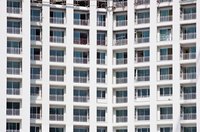 Whether purchasing or renting a timeshare, it is important to understand all of the terminology involved. A timeshare lockout unit offers flexibility to the owner and gives the renter possible options, but both parties should know exactly what to expect when entering a rental agreement.
Definition
A lockout unit is a timeshare unit with two separate sections divided by a door that can be locked, therefore dividing each section into a separate unit. The lockout area should have at least a bedroom, bathroom and kitchenette.
Owner's Options
The owner of a timeshare with a lockout unit who wants to rent the timeshare has several options. He can stay in the main unit or the lockout and rent the other side out. If he will not be vacationing, he can rent both sections separately or rent the entire timeshare as one unit.
Renter's Awareness
The timeshare renter should be aware of what a lockout is and whether or not he is renting full unit or just the lockout section. If the rental agreement does not make this information clear, the renter should ask questions of the owner to ensure that he is getting the type of unit he requires for his vacation.