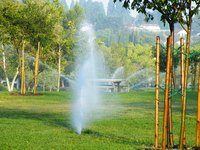 A Rain Bird sprinkler may need to be repaired for a variety of reasons. Contact with lawn equipment such as mowers and trimmers may have damaged the sprinkler. The sprinkler filter and spray head may need cleaning to remove debris.
Types
Some types of Rain Bird sprinkler repairs include replacing the filter screen, and flushing the body and spray head with water. You can also make changes to the sprinkler's watering radius and arc by turning adjustment screws located on the sprinkler head. A sprinkler that is severely damaged may require replacement.
Significance
Repairing your Rain Bird sprinkler will help keep plants and grass looking healthy and beautiful. Making necessary repairs prevents any interruption in irrigation, and also maximizes utility by avoiding wasted water.
Prevention/Solution
To avoid contact with equipment and individuals, it is best to place sprinklers in areas that are not prone to such traffic. Placing sprinklers in flower beds or in other removed areas can help to avoid damage. Placing the sprinkler head so it is level with the ground will also help to avoid injuries. Sprinkler donuts are available for variation in grade or ground height, and as protection from encroaching plants and grasses.