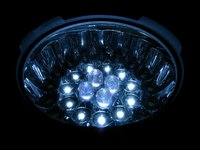 LEDs, or Light-Emitting Diodes, were developed as an energy-efficient option to traditional light bulbs. They save money, time and the environment. In spite of the positive effects on our world, there are concerns about their effect on our eyes.
Theories/Speculation
Blue LED light bulbs are the most utilized color of LEDs, and are used on everything from cell phones to television sets to medical equipment. Theories about harmful effects began with complaints from consumers about the intensity of the light and include such things as eyestrain, headaches, sleep disturbances and cancer.
Warning
Blue light is the hardest for the eye to focus on. We actually see a halo around bright blue light. Blue light scatters more inside the eyeball than other colors, producing more glare, more eyestrain and more fatigue. Intense blue light can cause damage to the retina, because blue is the hardest color for the retina to handle.
Prevention/Solution
If you find that the brightness or intensity of an LED light bothers your eyes, there are some simple solutions you can try. Covering the light with electrical tape is one way, and shouldn't harm the device you use it on. Another solution is to color the LED housing with a black permanent marker to dim the light. If one manufacturer's LEDs are too bright, you could consider trying another brand with a better design for you.