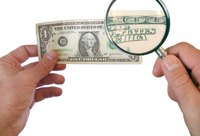 While the fees that private investigators charge can vary widely, author and investigator Steven Kerry Brown says being too thrifty when you need a PI can be counterproductive. For instance, spending $1,000 to successfully prove infidelity now, Brown says, can make you tens of thousands of extra dollars in future years of alimony payments.
History
The first private investigation firm in the U.S. was probably Pinkerton National Detective Agency, begun by Allan Pinkerton in the 1850s (see Reference 2). Some of its early work related to stopping a rash of train robberies.
Considerations
A complex objective with numerous possible tasks is usually billed at an hourly rate, plus expenses. For instance, in an adultery case, the objective is to determine whether a spouse is unfaithful. This may involve several tasks, such as interviews, surveillance and report writing. These tasks would be billed at an hourly rate of about $50 to $150 per hour as of 2003, according to investigator Steven Kerry Brown. Expenses such as photo printing and travel mileage are billed separately.
Types
Different types of tasks are billed in different ways. Simple, short-duration tasks such as database lookups are billed as lump-sum tasks, typically in the range of $25 to $200 as of 2003. A simple skip trace with a predetermined maximum scope of work might fetch about $300 (see Reference 1). Florida private investigator Services charges a flat rate between $600 and $700 per day for an eight-hour day as of mid-2010 (see References 3 and 4).