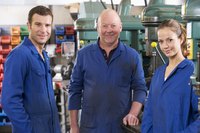 Section 7 of the National Labor Relations Act, also known as Title 29, Chapter 7, Subchapter II, Section 157 of the US Code, gives workers the right to meet and form a union.
History
Section 7, along with the rest of the National Labor Relations Act, was enacted during the height of the Great Depression to protect workers' rights to form labor unions and provide legal protection from management reprisals.
Non-Union Members
Workers who are not in a union also have the right to engage any collective action they wish to undertake regarding labor rights in their workplace in all workplaces except for airlines and railroad companies.
Right Not to Organize
Workers also have the right not to affiliate with a union or other collective bargaining unit unless employment at a company is expressly dependent upon membership in a union under Section 8 (a3) of the National Labor Relations Act.