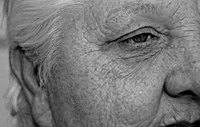 According to its supporters, topical estriol cream could fade wrinkles and reverse signs of aging "See Reference 1." However, according to the U.S. Food and Drug Administration (FDA), no conclusive study has yet proven its effectiveness in smoothing wrinkles "See Reference 2."
Function
According to the Department of Health and Human Services, the ovaries of women with normal menstrual cycles produce estrogen in the form of estradiol, which is then converted into estrone and estriol. After menopause, the body produces others type of estrogen. Because menopause often marks the beginning of skin aging, estrogen deficiency might be the cause of aging symptoms such as wrinkles "See References 3 and 4."
Effects
A study by the University of Vienna Medical School monitored the effects of topical estradiol and estriol products on 59 women with aging skin. After 6 months, the researchers found improvements in skin elasticity and firmness. Wrinkle depth and pore size also decreased by 61 to 100 percent "See Reference 4."
Considerations
To our knowledge, the FDA has not yet approved any drug that contains estriol. Although hormone therapy could strengthen bones and relieve hot flashes, the FDA has received no proof of the safety or efficacy of estriol in treating wrinkles "See Reference 2."