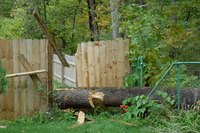 Fences are covered under "other structures" in homeowner insurance policies. They may be included as a percentage of the house value or listed separately. On auto policies, property damage liability coverage pays for repair to fences.
Homeowner Insurance
Homeowner insurance policies are written as a package and typically include 10 percent of the home value for structures including garages, sheds and fences. The homeowner can increase the coverage amount if the total value of all other structures exceeds 10 percent of the value of the house structure.
Rental homes, seasonal dwellings and very old homes may carry itemized policies. Fences are still covered under other structures but must be added with a specific value.
Farm and Ranch Insurance
Ranch policies offer coverage for the home, other structures, livestock, farm equipment and vehicles on one policy. All other structures including fences are itemized and insured to their full value.
Business Insurance
Insurance companies offer a wide range of commercial insurance packages to cover all types of businesses. Fences may be listed separately, especially if they are of higher value or special construction such as in the case of security fences.
Car Insurance
Auto insurance covers the vehicle owner's liability for damages a driver causes to another person or her property. Fences are covered under the property damage liability portion of a policy.