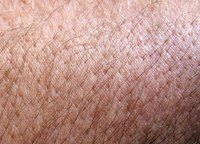 Tinea versicolor is a fungal infection that is common among adolescents and young adults. According to the Medicine Network, "The term versicolor refers to the fact that it causes the affected skin to change color and become either lighter or darker than surrounding skin." Tinea versicolor can cause extreme itching and embarrassing discoloration of the affected skin area. For treatment, you should visit a dermatologist.
Causes of Fungus Spots
Fungus on the skin is a symptom of tineas versicolor. The most common areas affected are the shoulders, chest and back of adolescents or young adults. Tinea versicolor is typically caused by an over-development of yeast "Malassezia furfur," which can be found on the skin of adults. According to the Fungal Guide, "If the skin is oily, warm and moist enough, it starts to grow into small "colonies" on the surface of the skin. In these colonies, the yeast grows quickly and leaks out an acidic bleach, which changes the skin color."
Other Fungus Ailments
Pityriasis alba is often mistaken for tineas versicolor, according to Medicine Net. Although there is some skin discoloration involved, the skin usually lightens rather than darken. Dark fungus spots, exclusively, are usually attributed to tineas versicolor.
Treatment of Fungus
A visit to a dermatologist for the prescription of an anti-fungal, topical skin cream is recommended. The creams are used daily until the infection has cleared. The scarring left behind should be treated separately.