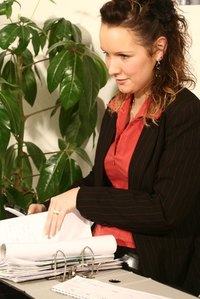 "Sales force" is a term used in analyzing how a company sells items. This includes the company's approach to selling and the methods and strategies used. An effective sales force makes a big difference in the quality of sales within an organization.
Response to Others
Part of an effective sales force is developing ways a business responds to others. This includes the company's customers, industry competitors and the economy. A good sales force determines ways to positively respond to these things and implement a strategy to increase the overall strategies of the business. This helps a company develop ways to generate sales leads and solve customer problems.
Sales Training
Companies with effective sales forces offer consistent coaching and feedback to all sales representatives. They offer appropriate training to the employees and reward them with proper recognition for achievements. Companies who take their employees opinions into consideration also benefit. Employees who feel valued by the company tend to work harder at their job.
Valuable Relationships
When sales representatives have good working relationships with customers, the sales with those customers typically increase. Customers who feel safe with a company tend to continue doing business with that company instead of shopping the market.