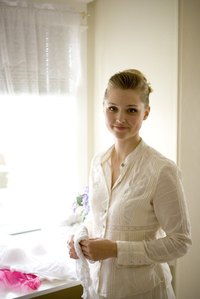 Medical associations and health insurance providers periodically publish guides for men and women that communicate ideal weights for health, based on height and age. Ideal individual weights vary, however, based on several personal variables.
Basics
According to the most recent (1983) Metropolitan Life Insurance "Height & Weight Table for Women," the "ideal weight" for a 5'4" woman is 114 to 127 lbs. for a small frame, 124 to 138 lbs. for a medium frame, and 134 to 151 lbs. for a large frame.
Considerations
References to ideal weight in standard height and weight tables identify weight ranges believed to lead to lowest levels of mortality in studies. Weights account for 3 lbs. of clothing and are intended for women ages 25 to 49.
Misconceptions and Facts
Height and weight tables are guides for basic health. Younger women tend to be more likely to stay close to suggested weight guidelines. While three frame sizes offer some flexibility for consideration, female body types can vary greatly. More muscle can lead to higher weight readings, as muscle weighs more than fat.