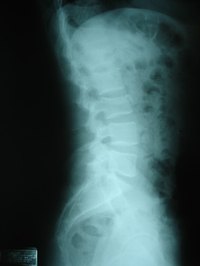 Radiculopathy is not an actual condition, but rather refers to various symptoms that occur near the spine where the nerve root is. Therefore, as a diagnosis, radiculopathy might not be sufficient to qualify for Social Security disability benefits.
Definition of Disability
The Social Security Administration (SSA) defines disability as a 12-month inability to engage in any "substantial gainful activity" due to any "medically determinable physical or mental impairment."

Symptoms
Symptoms of radiculopathy may include pain, difficulty controlling muscles and tingling, numbness and weakness in the extremities.
Causes
Radiculopathy can be caused by a disk herniation, bone spur (osteophytes), osteoarthritis, diabetes (causing insufficient blood flow to the nerves), scoliosis or thickening of the surrounding ligaments. Less common causes are tumors and infection.

Medical Listing
The SSA has a listing of medical impairments for disorders of the spine. If your condition matches the symptoms characterized on the list, the SSA will determine you disabled.

Criteria
The SSA requires the claimant have an extreme limitation on the ability to walk without assistance; or, to walk with assistance, if the assistance limits both upper and lower extremities, such as requiring the use of a walker, two crutches or two canes.