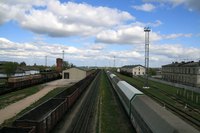 Freight charges are the costs incurred for shipping products from the producer or distributor to a customer or client. In some cases, the customer pays for freight charges as part of its bill. Some providers offer free shipping as part of promoting goods.
Freight Basics
Freight can be shipped through various modes of transportation. Ground transportation is common for domestic shipments. Air transportation is used for efficient shipments of modest-size and international freight. Cargo ship or boat transportation is used to transport freight over waterways.
Common Charges
Several steps are involved in the process of shipping freight. Each component incurs part of the total freight charges. Common charges include packing, palletizing, documenting, loading and unloading, transportation and insurance as needed.
Other Cost Factors
A few other service factors impact total freight charges. The mode of transportation used is a major factor affecting cost. Providers have different price points for similar services. Many freight carriers offer volume discounts or relationship discounts for contracted or regular shippers.