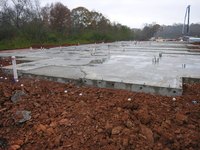 Post-tensioned construction became popular in the 1960s. It uses high-strength steel cables, called tendons, embedded in concrete in a grid pattern and then tensioned to counteract external stresses. The method is used widely in bridges, parking garages, office buildings and residential foundations.
Advantages
Post-tensioning can give architects greater freedom to create large open spaces between support columns. It also can mean thinner concrete slabs, less structural weight and greater floor-to-ceiling heights or shallower excavations. It can cut costs and save construction time.
Disadvantages
If post-tensioned concrete isn't built exactly as it was designed, it can be pulled apart by internal stresses. Exposure to moisture during construction can cause internal deterioration over time, too. These problems can be hard to spot and difficult to repair.
Considerations
Building an enduring post-tensioned structure requires care to ensure that the same forces that hold it together do not cause it to age prematurely. Properly implemented, post-tensioned construction can be a cost-effective way to build flexible, useful designs.