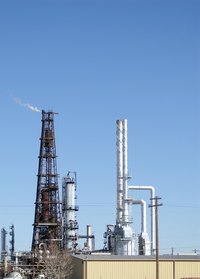 Oil refineries are large industrial plants that convert crude oil into more useful products such as gasoline, diesel and heating oil. They typically have extensive piping throughout them, carrying the crude oil between chemical-processing units.
Operation
Unprocessed crude oil is not generally useful; its lighter elements are hazardous because they form explosive vapors. The refining process separates the hundreds of types of molecules into components that can then be used for the end products.
Products
Oil refineries produce three types of products. The first is light distillates, which includes gasoline, naphtha and liquefied petroleum gas. The second is middle distillates, which includes kerosene and diesel. The final type is heavy distillates and residuum. Examples of this type include heavy fuel oil, lubricating oils, wax and asphalt.
Environmental and Safety Concerns
Because the refining process emits chemicals into the air, it creates an unpleasant odor and significant air pollution.