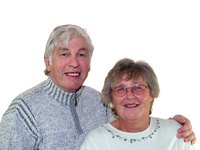 When taxpayers retire, they usually make the transition from earning active income to passive income. For many taxpayers, their passive income is a coupling of their Social Security benefits and pension, annuity, or interest income. Unfortunately, the addition of interest income to Social Security benefits can increase a retiree's taxable income.
Significance
Generally, taxpayers do not pay tax if their only income is from Social Security benefits. Social Security benefits are only taxed if the interest income increases a taxpayer's modified adjusted gross income to more than the base income for his or her filing status.
Taxable Amount
Input the amount from box 5 of your SSA-1099 on line A of the worksheet. Then enter half of the amount in line A on line B. On line C, enter the combined amount of your taxable wages, pensions, annuities, and interest. Input any tax exempt interest on line D. Now, add lines B, C, and D and input that amount on line E. Compare the amount in line E with the base amount for your filing status. The base amount is $25,000 for single, head of household, and qualifying widow(er), $25,000 if married filing separate and living apart, $32,000 if married filing jointly, and 0 if married filing separately and living with your spouse. If the amount on line E equals or is less than your base amount, then your benefits are not taxable. If the amount on line E is more than your base amount, then your benefits are taxable.
Assistance
If you need tax help or have questions regarding your Social Security benefits or your interest amount, call the IRS between the hours of 7 a.m. to 10 p.m. at 800-829-1040.