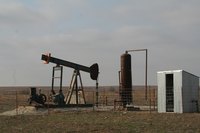 The production of oil from a natural reservoir occurs in three steps: primary, secondary and tertiary or enhanced oil recovery (EOR). Primary oil recovery, also called primary production, is the initial step, though it produces the least oil of the three.
Definition and History
Primary oil recovery is the process of pumping out the oil that flows naturally to the bottom of the oil well due to gravity and the pressure of the reservoir. Artificial lifts, like oil pumps, are used to help the process along when the pressure decreases. Primary recovery ends when the pressure is so low that the oil produced by the effort is no longer economical. The use of lifts is still considered primary recovery. Until the end of World War II, primary oil recovery was the only method of oil production.
Purpose
Primary oil recovery is the essential first step of the oil production process because the natural pressure must be displaced in order to introduce pumps and further oil extraction tools. Once primary recovery is complete, other oil extraction measures must be introduced to continue to recover oil.
Drawbacks
Only about 10 percent of the oil below the surface is recovered in primary oil recovery, hence the need for secondary and tertiary measures. According to the National Energy Technology Laboratory of the U.S. Department of Energy, of the 600 billion barrels of oil available within the United States, more than 400 billion barrels are unrecoverable by both primary and secondary oil recovery procedures. Tertiary measures, though, are expensive, and it is impossible to predict how successful a certain tertiary measure will be.