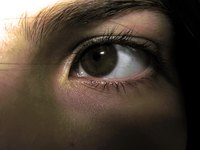 Eye astigmatism is a common vision deficiency that is rarely a major concern for the eye patient. Many children, adolescents and adults have this eye condition that can be treated by an optometrist.
Description
Astigmatism refers to curvature of the cornea, which is the front surface of the eye. This part of the eye is naturally curved to aid the eye in focusing on near and distant objects. When the curve of the cornea is irregularly shaped, the result can be out-of-focus vision.
Occurrence
Astigmatism is often congenial; however, this problem with the cornea may develop after an injury to the eye. When astigmatism is present, it causes visual images to focus at two places in the back of the eye instead of the normal one place. This results in blurry vision and eye strain.
Treatment
In most cases, astigmatism can be corrected with eye glasses or contact lenses. However, more serious cases may require eye surgery.
Lenticular Astigmatism
A second type of astigmatism, called lenticular astigmatism, can occur in the lens of the eye. In this condition, the shape of the lens varies, resulting in blurry vision. The most common cause of lenticular astigmatism is diabetes, so treatment of the diabetes often is effective in dealing with this kind of astigmatism.