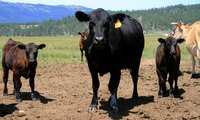 Cattle farms can be a big business, and with any big business, you have challenges. One major challenge in this industry is finding a way to produce large cattle in a very short period of time.
Fast-Track Method
The most obvious way to help your livestock gain weight quickly is to feed them more. Feeding cattle three pounds of grain a day will quickly up their weight. However, it is important to monitor your nutrition and grain processing using this method. You may run the risk of overfeeding and causing digestive problems if you are not careful.
Supplement with Protein
Winter feeds for cattle are unproductive. The free-range feed is low in protein and very hard for the cattle to digest. One way to combat this issue is to supply your cattle with a protein supplement. This will not only add the absent (and necessary) nutrient for muscle growth, but will aid in the digestion of the dry winter forage, making winter feeding more productive overall.
FDA
The Food and Drug Administration (FDA) regulates animal feed, including that which is fed to cattle. Violating regulations regarding the types of feed and medication you use on your livestock can result in penalties imposed by the FDA. Before deciding to change to a new feed program, make sure to read "FDA 101: Animal Feed." It will give you an overview of what the FDA expects.