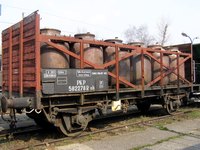 Freight insurance, also referred to as cargo insurance, is insurance protection purchased to cover potential physical loss or damage when you ship freight. It is an important insurance solution for businesses that routinely ship freight.
Basics
Freight insurance covers the value of your freight shipment in the same way postal insurance covers items shipped with the post office. Insurance can be purchased directly through the shipper or from a third-party freight insurer.
Protection
Specific benefits vary by provider, but common protection with freight insurance includes coverage for physical loss or damage from most external causes. The amount of protection is sometimes determined by weight or package count, but other companies sell insurance covering the value of the shipment.
Products
Freight insurance solutions are usually packaged based on the method of shipment. Air and ocean freight insurance pays benefits on claims for shipments transported by plane or boat. Road freight plans pay benefits on semi or truck transportation.