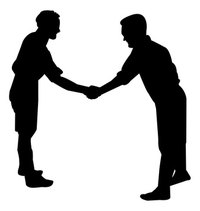 Nonverbal communication plays a big part in Kenyan culture. If you are an outsider, you need to understand these nonverbal cues so that you can communicate better and not take gestures the wrong way.
Gestures
According to the Foreign Affairs and International Trade Canada website, handshakes are the most common form of nonverbal greeting in Kenyan culture. Avoiding eye contact during conversation with elders and superiors is done as a sign of respect.
Intent
When having a conversation with Kenyans, they may fold their arms across their chest. This is not a sign of aloofness or shutting you out. The intent is to show that they are really tuning in to what you are saying and shutting everything else out. You can observe a pattern where Kenyans fold arms when listening and unfold when responding to the conversation.
Misconceptions
Staring and seemingly getting in your space is not meant to be rude in Kenyan nonverbal communication. It it is done out of curiosity for something new and unfamiliar. It is not uncommon to find Kenyans, especially children, stopping to stare at foreigners or jostling each other to get a better view of unusual happenings.