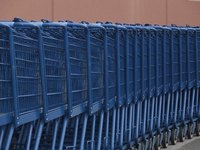 Operating a grocery store can produce a considerable amount of income, but grocers can also incur a significant number of costs. To properly calculate profit, a grocer must consider all costs as deductions to gross revenues.
Tally Revenue
To calculate profit, a grocer must first determine the amount of revenue collected during a given period. Many modern grocery stores use sophisticated point of sale, or POS, systems to perform this task, but some simply plug their daily sales figures into spreadsheets to arrive at a gross revenue figure.
Product Costs
For many grocery stores, product costs represent a significant expense and can quickly erode an apparently healthy revenue stream. To calculate gross profit, a grocer must deduct product costs, or the amount the grocer paid to a distributor for the merchandise sold during the reporting period, from the gross revenue. The remaining figure, known as gross profit, represents the amount of profit the grocer generated based solely on the difference between the purchase price and sales price of merchandise.
Overhead Expenses
In addition to product costs, grocers have a number of other expenses. When calculating net profit, grocers must deduct both major and incidental expenses. Some of these expenses include employee pay, insurance, upkeep on equipment, training costs, office supplies and even the mortgage or lease payments on the grocery store itself. The amount remaining after these deductions is known as net profit.