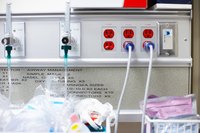 Hyperbaric chamber oxygen treatments increase the oxygen flow to the body and can be used to treat severe injuries to tissues. The hyperbaric chamber can be used to treat conditions such as autism, cerebral palsy, multiple sclerosis and fibromyalgia.
Costs
The cost for hyperbaric oxygen treatment sessions range from $100 to $300 at about 300 centers in the United States. Most insurance companies will approve the use of the chamber when it is medically necessary.
OxyHealth LLC
OxyHealth offers portable hyperbaric chambers to clinicians, researchers and patients. They have over 7,000 chambers available for purchase or rental. OxyHealth has two hyperbaric chamber rental options: test drive and short-term. The test drive allows the chamber to be rented on a monthly basis with the possibility of purchase while the short-term rental program offers the chambers on a payment plan.
The Healing Institute
The Healing Institute is a comprehensive neurologic rehabilitation center located in Florida that also offers hyperbaric oxygen treatments. A 60-minute treatment is $200, while a 90-minute treatment is $300. They also offer block treatments: 20 treatments at $200 would cost $4,000.