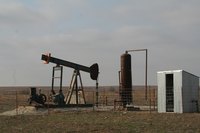 BP Amoco, one of the largest energy companies in the world, trades on the New York Stock Exchange under the ticker symbol BP. Buying BP stock is easy once you have an active brokerage account.
Open Account
Decide on a brokerage firm and complete any necessary paperwork. Online accounts may allow electronic signature while full-service firms often require actual forms.

Fund the Account
Drop by or send a check to your brokerage account, or make an electronic transfer. Ask how long you'll need to wait before placing your BP trade.

Calculate
Find a recent price for BP at any reliable financial website. Calculate how many shares you can afford. Keep in mind that shares of BP, which is based in the U.K., have been beaten down as a result of the catastrophic oil spill in the Gulf of Mexico. They rebounded some after the ruptured wellhead was capped, but the company still faces huge liability.

Trade
Call your broker to trade or type BP into the market order screen of your online trading platform. Decide if you'd like to buy at the market or place a limit order that buys once BP reaches a predetermined price.