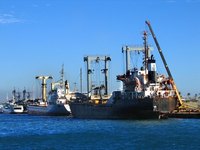 Marine cargo insurance covers losses that occur while goods shipped via waterways are in transit. Warehouse to warehouse coverage is the norm with this type of insurance, assuring the owner of the goods that all transit points are covered by the policy.
Considerations
Insurance costs are a function of various factors such as: type of coverage, dollar limitations, extent of coverage, specified risks, excluded risks and additional coverage requested.
Function
Marine cargo insurance is used to manage risk associated with shipping goods from place to place. FOB, an acronym for Free on Board, means the seller bears the risk until the title transfers to the buyer, which is usually at the buyer's warehouse or when delivery is complete.
Features
The common level of coverage for a marine cargo insurance policy is 110 percent of carriage, insurance and freight value.
Prevention and Solution
The seller may need contingency insurance to cover any unknown risks to the buyer related to the FOB shipment.