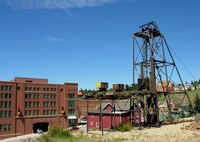 One of the most important factors to the success of a gold mine is the cost of producing the gold from the mine. The cost of production must be kept as low as possible to assure profitability.
Average Cost of Mining Gold
According to the World Gold Council, the average cost of mining gold is about $240 per oz. These costs will vary depending on the location of the gold and the methods needed to extract it.
Gold Mining Cost Factors
Many factors influence the cost of gold mining. Deeper mines require more equipment to produce the gold ore and transport it to the surface. While gold must be extracted from ore, gold is often found along with silver, uranium and other marketable elements that help to defray the cost of mining.
Gauging Gold Mining Costs
The cost to mine gold is an important number to gold companies to determine the profitability of a mine. Investors are also interested in the cost to produce gold as a way to determine companies in which to invest because the lower cost mines should be more profitable.