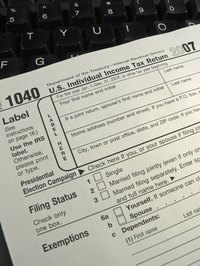 The tax code allows for charitable deductions including tithing, but good records must be kept that back up the deductions. In general, the IRS requires bank records, payroll records or documents from the charitable organization that document the contribution.
General Record Keeping
According to the IRS, keep tax records, including records for tithing deductions, for three years. However, some special circumstances may require you to keep records for longer than three years.
Special Circumstances
If you fail to file a return or file a fraudulent return, there is no expiration time frame; the IRS can require tax records from that year regardless of how much time has passed.
Record Keeping
The IRS does not require a specific record keeping method for individuals. As long as you can produce the records and they contain the information required, the IRS does not care how you keep your records. Storing records by year and sorting them into categories for each year is a method that works for many people.
Beyond Limitations
Records may be required beyond what the IRS requires for banking or insurance. Review your needs before discarding any records. Remember that if the IRS believes you filed a fraudulent return or did not file a return, they can require records from that year, three years before that year and every year since that year.