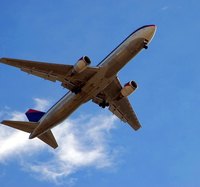 Southwest Airlines does not sell ticket vouchers (though it does give out LUV vouchers); it does, however, sell gift cards, which the airline creatively named southwestgiftcards. These can be easily purchased, delivered and used online, and they never expire.
Details of Purchasing
To buy a southwestgiftcard, visit southwest.com and go to the Air section, which can be reached by scrolling over "air" on the top toolbar and clicking on the link called "southwestgiftcard." To purchase one with a credit card online, click "Give a southwestgiftcard" and follow the instructions. You can also call 1-800-I FLY SWA (1-800-435-9792) to buy one, or visit an approved retail location such as Albertson's, Kroger or a participating Wal-Mart.
Cards can be purchased for amounts from $10 to $1,000. If you desire a higher amount, you can fill out a southwest gift card order form and follow instructions. Cards purchased at retail locations are only available in specific amounts ranging from $50 to $200.
Southwestgiftcards can be delivered by e-mail, or through the mail, which requires an additional fee of $2.95 for USPS or $9.95 for Federal Express Standard Overnight.

How to Use
To redeem your southwestgiftcard, visit southwest.com and after finding a flight to purchase, enter your card's information under "Apply Travel Funds." You can also call the numbers listed above to redeem your card, or use it at a Southwest ticket counter. Up to four gift cards can be applied to one purchase, and the cards never expire.
You can check the balance of the card by visiting southwest.com, scrolling over "Air", clicking "southwestgiftcard" and then clicking "check southwestgiftcard balance". You can also call 1-866-393-2081 to check your balance.

Restrictions
Southwestgiftcards cannot be replaced if lost or stolen, and they are not re-loadable.
It should also be noted that it is illegal to buy Southwest vouchers or drink coupons online.